4-D Pregnancy Ultrasound
This page contains information about the: 4-D scan services
The Centre for Ultrasound Studies (CUS) is purpose built and provides excellent facilities for pregnant ladies having scans carried out by the professional and experienced members of the CUS teaching faculty.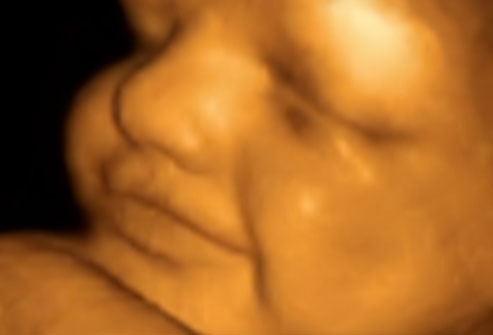 4-D ultrasound provides life-like moving images of the baby. The ultrasound scanner used for this purpose has superior technology which allows the acquisition of 3-D pictures of the baby and its movements, thus allowing the mothers to see their babies in almost life-like pictures providing a unique insight into the baby's living environment. This is obviously a great joy for the mothers-to-be, their partners and other family members sharing this amazing experience.
Increase Mother and Baby Bonding
It's a magical experience seeing your unborn child moving and yawning during your routine 2-D black and white scans, but with a 4-D scan you can actually see your baby's face and watch them smiling, or sucking on their fingers, just like a newborn baby.
For years, parents-to-be have gained peace of mind with information gained from their 12 week and 20 week scans with the aid of 2-D ultrasound.
Now, using state of the art 4-D ultrasound technology at the Centre for Ultrasound Studies, we can give you the opportunity to see your baby in much more detail.
 Is 4-D Scanning Safe?
4-D scans use the same intensity of ultrasound as the traditional black and white 2-D ultrasound but utilise multiple, rapidly processed images to create a 3-D image. The 4-D element is generated with the added feature of movement.
 When is the best time to have a 4-D scan?
The ideal time to perform the 4-D scan is during the 24th – 28th week. This is in order to obtain optimal image quality. If the scan is performed earlier than this, babies lack the fat beneath their skin so their facial characteristics will appear quite bony, very different to their appearance at birth. If the scan is performed later in the pregnancy, the amount of space your baby has to move becomes more restricted as they increase in size, and as they begin their descent into the pelvis views of their face may become restricted.
 What is the next step towards having a scan?
Pregnant ladies are advised to consider the following protocol on booking their scan:
1. Inform their GPs/midwives that they are contemplating having a scan and a letter of approval should accompany them.
2. For gender scan pregnant ladies MUST be 24 weeks or more.
3. For 4-D scan pregnant ladies should be between 24-28 weeks.
4. Pregnant ladies will be asked to sign a consent form on arrival at the Centre.
5. There may be professional healthcare students present during the scan. 
Services
 4 - D Scan:  £125.00
Provides vivid moving images of your baby. Includes approximately 5 minutes of moving images recorded on DVD for you to take home and a minimum of 3 black-and-white pictures. Carried out between 24-28 weeks.
Gender Scan:  £75.00
2-D scans to determine whether your baby is a boy or a girl. Carried out at 24 weeks.